Arena Interactivity
When designing your arena, consider the location of your interactive components, base locations, and effect features. These can potentially be the key point of difference between your laser tag and the competition.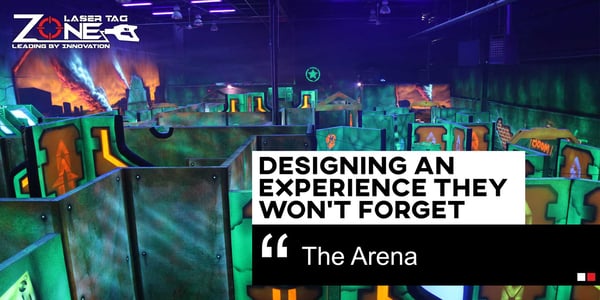 Well placed interactive components should surprise and delight your players. They should also vary in purpose between games. For example, you could utilize a Zone Game Station as a power-up station in one game, where guests can get special weapons from the touch screen, then in another as an espionage station, where players can pretend to change their team and go around the arena causing chaos!

We touch on this further in our article Create The Fun, have a read to discover all sorts of twists you can add to your gameplay.

Theming
The arena isn't all about where the walls go, it's also what goes on them! Good theming choices can add the wow-factor you need to make the arena memorable, as well as add to the excitement during the game.

This can be accomplished in a lot of ways, all of which can be successful if done right!
Specialist arena installers. A specialist installer will work with you to create and install the theme. This can be money well spent as the work is all done for you, a turn-key solution. In general, though, specialists will cost more than any of the other theming solution.
DIY. The Polar opposite of the above, and rather self explaitary. We've seen some great results from DIY arenas that compare well with the profferssionals. So, if you have some extra time why not give it a go?
Professional artists. Many laser tag centres have created a successful and unique look by hiring a talented spray artist to work their magic. The potential visual effect and impact can really make your centre stand out.
UV Wallpaper. Zone has an inhouse solution through our partnership with BlackLight Unity, to provide customized UV wallpaper designs. This simple to adhere and visually striking solution can be fitted to any arena design. View your customised theme in advance on our 3d arena plans, so you can see what you are getting before it's installed! Wall paper solutions are generally a faster to install than artists, cheaper, and have a very long life expectancy.

For Props related to your theme, there are lots of fantastic supplier options that you can utilize to make your arena pop even more. Specialist installers will install these for you as they go, or utilize your Laser Tag suppliers contacts or propshop to get yourself custom props for your theme!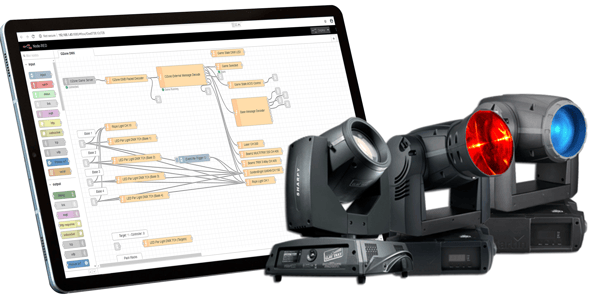 Arena Effects
There are four types of lighting systems that generally go into Laser Tag arenas.
Black Lights; to make your UV art and arena pop with color. These come in two main types, fluorescent tubes and LED lights. LEDs have the advantage of being able to be controlled by DMX and tied directly into the game to add to the interactivity. However, they do cost more.
Effect Lights. These lights can transform your arena into a mysterious and exciting environment that immerses your players. It's the most cost-effective way of creating atmosphere when compared to other options. LED lighting is perfect as it's bright, colourful, low-maintenance, and controlled by DMX software. This will enable you to make the lights part of the game.
Emergency Lighting. Usually, a grid of white LEDs that trigger with your alarm, allowing your guests to exit quickly and safely. Make sure you meet the local council rules for this!
White Light. A separately controlled grid of white lights that turn on independently to allow for cleaning and maintenance.
Make sure that whichever Laser Tag provider you choose can integrate their software to DMX. Not having this interactivity of gameplay and lighting could cost you the edge over your competition.
Sound and Haze
As with lighting, both sound and haze are important and cost-effective ways of adding to the atmosphere. Most Laser Tag systems can automatically play and control the arena music with custom playlists for your games.
Ensure the sound system installed meets your requirements at about 50% of its max output. That allows you to turn it up for special events when needed and means you're not straining the system with regular use!
Haze is another fantastic option to add ambiance to the game. It allows players to see the laser beams flash through the air much more visually!
Conveniently, Zone can sort your entire effects system for you. Zone can provide advanced LED lights that can function both as your Effect and White Lights, a range of UV options from ropes to high power effects, along with haze and sound options. All controlled automatically with Zones Intelligent Arena Control from O-Zone.
Jump into more about designing an experience they won't forget with the following posts: