We've added automatic social distancing to all our O-Zone systems! Zone Packs can now automatically detect and enforce social distancing rules in game. With configurable distance controls and warning effects to make it seamless.

This new feature set, to just call it innovative and a first is an understatement! Zone once again leads the industry forward in leaps and bounds, to help our operators be the best they can. In these trying times!



With all the new restrictions being put in place on entertainment operations, this software update will mean you can keep operating at higher packs per game, than any other laser tag system! Players can feel safe, and have a great time without having to worry about trying to keep an eye on where everyone is!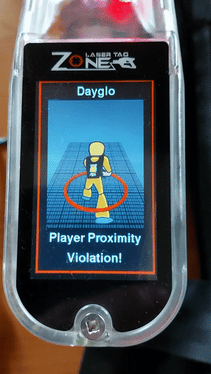 The system will automatically alert players who come to close to each other, with both videos on the large phaser screens, as well as with new audio warnings! If needed you can even have the system automatically inforce frequent offenders with score penalties!

This new technology that zone has developed (patent pending) will allow for lots of exciting new spacial awareness games, and features down the line! But for now, the most important thing of social distancing is available now for all updated O-Zone Systems!*

Better yet… it's free, and available right now for all O-Zone Systems! So please, reach out to your local agent, and we can get you updated right away!


This awesome new feature combined with Dual Kitup control, makes it far easier to manage your site with the current limitations on guests! These are just a few of the epic updates we've managed to get out over this shutdown! Stay tuned for more updates soon, with exiting new games, features and options for your Laser Tag system!

*System must be running the newest FW. All Helios2 systems immediately compatible. Contact your local agent for help updating!

HeliosPRO systems need to be running newer generation brainboards, but can be quickly and cost effectively updated to the new hardware, check with your distributor if unsure.