Listing your business on Google is a crucial element of getting customers to you. Without a listing on Google Business, not only will people be unable to find you easily via search, they also have less reason to trust you.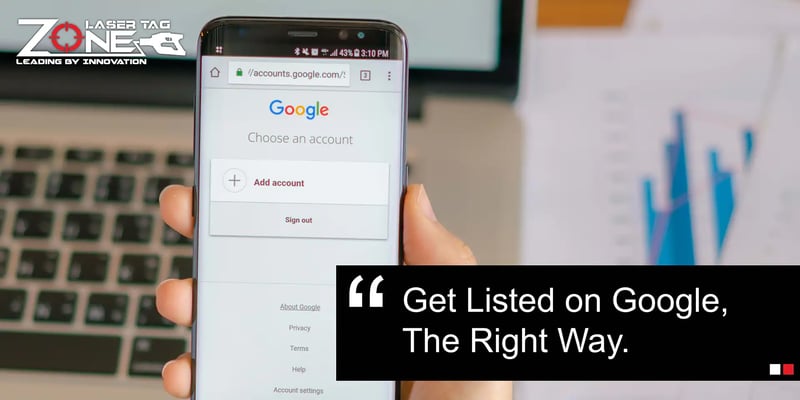 Consumers use Google to find more than just a link to your webpage. The addition of information such as opening hours, reviews, and photos can help a customer make the decision to shop with you. Without those things, they may look elsewhere, so it is very important to put the small amount of work needed in to be sure that when people look for you, they find everything they need to know.
Create a complete Google my business account
This is the first part of getting your business listed on Google. When you search for a company or shop in your area, you have probably noticed that you get more than a link to their website. A sidebar with information such as photos of the premises and interior, a map to find it, reviews, an address and even more appears.

To achieve this for your business, you should include all relevant information when you create your Google Business account. Make sure you fill out every section on the page. Include information such as your phone number, operating hours, a description and so on. Google ranks businesses based on how complete their page is, so the more you can include, the better.


Pick a specific category
If you want to show up in search results for a specific attraction, brand or other type of business, make sure you choose the right category. For example, your main business hopefully is laser tag so you should select that to ensure people see your business when they search, if it's not choose the most appropriate one for your centre.

Secondary or sub categories allow you to include additional attractions, so if you are also a café, arcade or trampoline centre, you can add those too. Taking care to include all the relevant things you offer is very important, that's how Google decides what to show searchers. The better you describe what you offer, the more likely you are to show up in searches, and the more Google will treat your business as trustworthy.


Content is key
Two things drive business more than anything else in Google searches, photos, and reviews. Customers want to know what to expect and giving them as much of that information as you can, will help them make the decision to use your business.

Up-to-date photos are an easy way to ensure people can recognise your business, so if you change signage, interior décor, or window displays, make sure you update your business accordingly. Reviews are a little harder because they require your customers to write something. If you have regulars, it can be worth asking them for a few positive words to help you out or suggest it to satisfied customers.

Having positive reviews can make an enormous difference, as it's a huge reason for a customer to choose you over a competitor. Reviews are an indicator that you can be trusted and offer a great service. Word of mouth is a powerful tool.
Ask and answer questions
Google offers a question and answer section, where customers can ask questions they want to know IE: "Is there parking?"
Answers to these questions may be the impetus for a customer deciding to choose your business. However, this section is particularly important to optimize because not only can anyone ask a question on a business's Google profile but also anyone can answer. This can lead to inaccurate information on your profile, or even worse, something like the Q&A on this pizza restaurant's profile:
You can't turn of Q&A, but you can set alerts up so when someone asks a question you get notified so you can respond quickly. Other good tactics include; to

seed your own Q&A section

. Make a list of the most frequently asked questions your business gets. Then ask, answer, and upvote your answer on your own profile.

Keep keywords in mind,

question's and answers that contain keywords can help improve your business profile ranking for a keyword, so align your answers to targeted keywords, as organically as you can!



Post to your Google Business Profile
Just like with social media platforms, you can post to your Google Business Profile about announcements, offers, events, and products. Posts are created in your Google My Business dashboard and show up on the "Updates" section toward the bottom of your Business Profile. However, they might become more prominent based on the search query.

Here's how posts help you to optimize your Google Business Profile:
- Posts increase the number of actions taken by consumers who find your profile.
- Posting regularly sends positive ranking signals to Google in the same way that adding photos does.
- Consumers have higher intent on search engines versus other posting platforms (i.e., Facebook and Instagram, where they are leisurely scrolling), so they are more likely to engage with your Google posts.
- Consumers can follow your Business Profile and get notified of new posts and updates.

Critically make sure to:
- Post regularly, to keep things up-to-date, but also some types of post on google expire after seven days.
- Use event and offer posts for marketing campaigns that have a timeline, you can make them automatically expire for when the event has finished
- Include CTA's in every post

Google my business posts even appear on Google maps! So that's a great extra bit of free advertising.