Another important page to take your time and get right is the 'About Us' page. This is a frequently visited part of your website, so making sure you get it right can pay dividends with customers, making sure they get all the relevant information they might need about your business quickly and easily.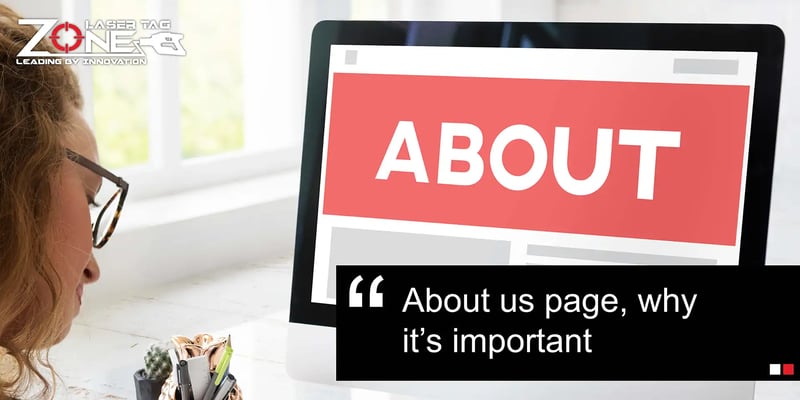 We compiled our top 6 tips to making an excellent About Us page.
Company background
When a potential customer visits your website, you get a chance to impress on them your passion and commitment to your business, which helps to build trust. If you are looking for somewhere to buy a specific product, one of the factors that can push you in a specific direction is whether you have an affinity for the business you buy from. Telling your story is an important part of that.

Your goal is to get people to believe in your brand by detailing the steps you took to get your business to where it is today. Include the very beginning, the struggles and the successes – but keep it reasonably brief, this is not an autobiography! What you want is to give the customer a full picture of who you are, what you do and why you do it. In doing so, you give your brand a personality, a voice that they can trust.

If you've got a long history, or it's critical to your impression, consider making a specific page just for it, and put an abbreviated story on your about page.


Business Model


Now you have the background detail covered, make sure you outline exactly what you do. Take a couple of sentences to explain it in a small amount of detail. Descriptive, but concise is what you want to aim for here. Your customers have a good idea already if they made it to your website, so you do not want to bog them down in detail when they could be making a purchase!

Ideally two to three sentences telling the customer what you do and how you do it is fine. Keep it simple and your customer will find out what they need to know easily.

The Team


Putting the people behind your business at the forefront can be a huge boon in terms of trust building. People relate to people, so seeing the smiling faces of workers proud of the brand they represent makes customers feel secure in their purchasing decisions.

To introduce your team, have photos, names and job titles of the top people in the company. You do not need to go through the entire workforce here, just the key names who you feel best represent your departments. Depending on how you wan to come across, you can have some fun here. Many companies showcase the personalities of their employees via photos or bios that are light in tone, but make sure that is a good fit for your business. A whimsical structural engineer is probably not someone you want building a bridge, but a entertainment company should absolutely have fun with this section.

Mission statement / Core values


The mission statement is what you are all about. What makes you special. We aim to be the best, the fastest, the most personal service – whatever it is that you feel is your mission as a business, state it here, make the customer know what you strive to do.

Your core values reflect who you are as a company and brand. Consider what you feel is important and include it here. Integrity, honesty, trustworthiness, passion, fun – what do you value?

Between the mission and values, your customer should gain a complete picture of what you believe in and what to expect from you.

Contact information
This may just be the most important element of your About Us page. The info your customer needs the most. Where are you, how do I contact you?

Make sure if you have a physical location you show an address and a map – preferably an embedded google map for ease of navigation. You also need phone numbers, email addresses or a contact form, as well as buttons for your social media. Anything at all that you can do to make it easier for your customers to engage with you, find you and buy from you, that should go here. Make it easy for users and they will be more likely to choose your business over another.


Hours of operation
When are you open, this of course needs to be shown to your guests! Make sure you explain holiday hours, special event hours and anything else that effects when your doors are locked. Keep this updated, and make sure to also update your hours on google page manager!

Consider putting your hours in the footer as well, so your customers can find them easily.

Your About Us page is a hugely important part of your website. This is where your customer finds out who you are as a business, and decides whether you are right for them. Almost like a dating profile, this is your chance to show you are a perfect match for their needs. You may not be right for everyone, but getting this page right gives you a chance to find the ones for you. Customers, that is.

If you want help with your website, reach out and Zone can either point you in the right direction. Or we can build you a site and maintain it for you, that's optimized for success in the attractions market!