In an increasingly more is more world, shopping centre groups are realising the necessity in developing centres that provide more than just a shopping experience. We see developers and center owners continue to innovate, reinventing the shopping centre format. Centres are now positioned as the 'town centre' of a community, offering experiences that are an extension of their customer's life- this is key in creating loyalty with shoppers.
We are progressively seeing more sophisticated entertainment areas being added to the mix, with new and unique pop-up shops and food courts transformed into dining precincts that include both food and entertainment offerings.
In particular, shopping centres have realised the importance of incorporating entertainment areas, placing them in key locations- close to a food and beverage offering, within the children's precinct, or in a slower area of the centre to help activate the space. These play areas are no longer an afterthought, but fast becoming central in redevelopments and design.
Centre groups understand that play facilities are a key driver and drawcard for families, carers, and mothers' groups. Centres that properly execute play benefit from increased foot traffic, retailer spend and enhance the shopping centre perception. It can also increase the hours of guests' attendance at the malls later in the evenings by providing other reasons for guests to attend the shopping centre.
At Zone, we are consistently pushing the boundaries. We are creating fun and innovative environments for the dead space within malls that feature unique fabrications and centre combinations from our wide partner network. These keep children playing longer, ensuring a new and engaging experience every visit.
One such example of a new combination store is Lilliput FunZone, which revitalized the Centreplace mall in Hamilton, by adding in a fantastic 24 player Helios 2 Laser Tag System, alongside redemption arcade, Mini Golf, and escape rooms! This development is already making a big impact on the mall environment and guests' attendance.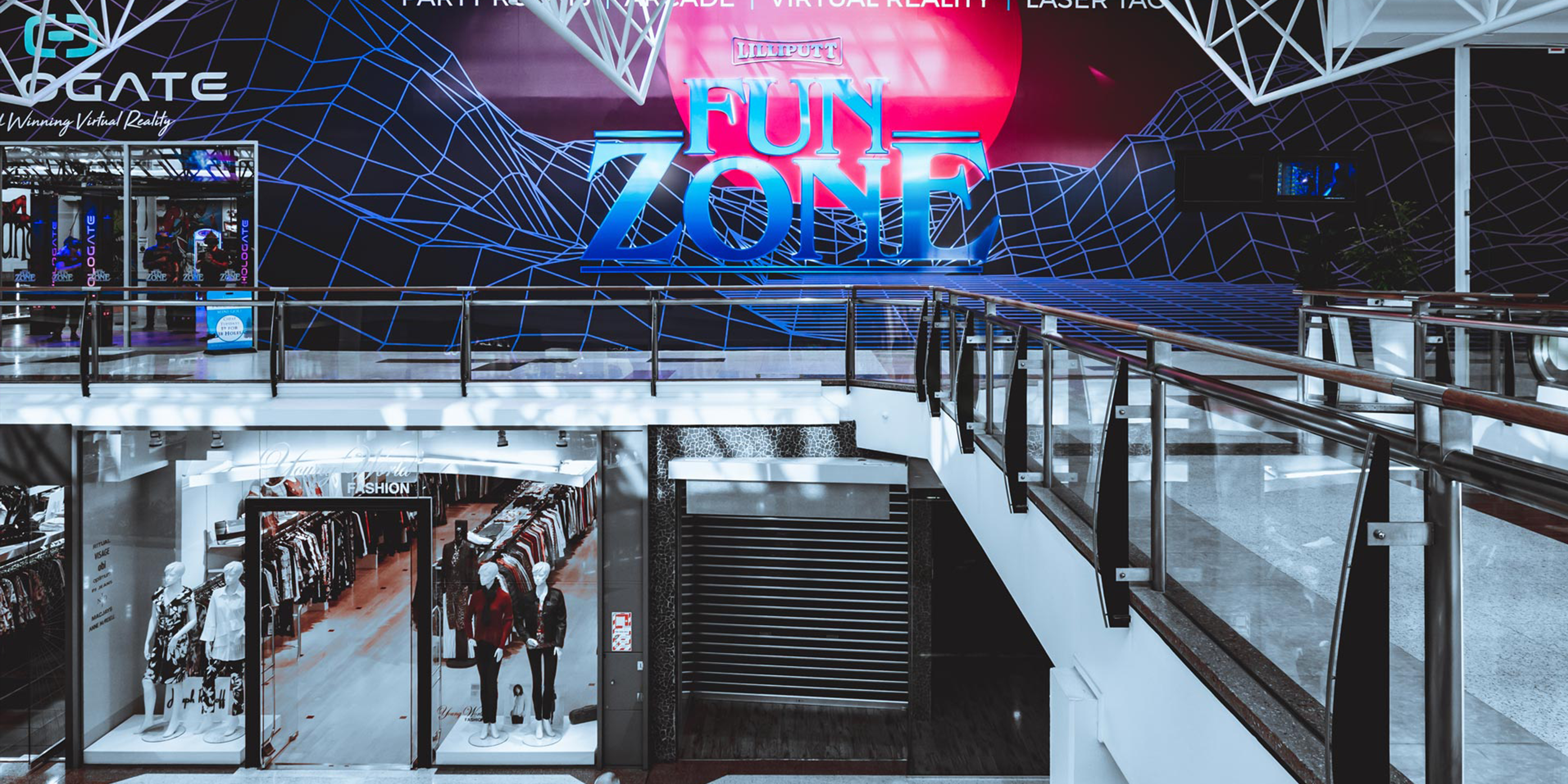 Improved Customer Experience
Key statistics show that 74% of shoppers state that entertainment facilities influence their decision on where to shop, while a significant 90% of shoppers agreed that having facilities to entertain children or spend some time relaxing while shopping is important to them.
The research reveals that over 60% of shoppers agreed that centres with play facilities show they are child friendly, family-focused, and a real asset to the community. They truly cater to their shoppers and understand their needs and the market.
By providing an entertainment area the centre is working to improve the customer experience, but we also found that the majority of our respondents were staying longer and making additional purchases at surrounding retailers.
The research showed more than 60% of shoppers visit the centre at least once a week, and 45% use the entertainment facilities every time. While in the play area, 82% of those shoppers make additional purchases such as coffee, drinks, and food.
The most astounding find was that respondents were willing to drive an hour past their local centre in order to shop at a centre with children's play facilities.
By providing an entertainment facility in a shopping centre you are creating an important space for the family consumer, where the benefits of integrating play into their shopping trip mean they can get more done- a once negative experience is now positive for all.
Increased Dwell Time

Creating positive experiences increases dwell time, encouraging families to stay longer. It's an excellent way for both children and parents to take a break and recharge before continuing on their shopping journey. By entertaining the kids and providing a safe environment for them to burn off energy, families are less likely to seek the exit and continue shopping for longer.
The position of the entertainment area in the centre is also important to improve dwell time. Closely monitoring foot traffic patterns in the centre can help determine the play facility's most fertile area. Increased sales will come to the surrounding retailers if they are the right mix, so they are often located next to children's shops, food, and beverage retailers and rest areas.
Having the entertainment facility next to a cafe provides the perfect spot for parents to sit and relax with a cup of coffee or snack while watching their children socialise, release energy and have fun. That is, of course, unless they want to join in on the fun themselves! Or, you can even combine the cafe/food offerings in with the entertainment centre, to create a common area.
Having a bar, or drinks option available nearby, will bring more to the centre's night market as well, helping to increase the range of times guests frequent the facility and the age draw of the attraction.
Combining the entertainment area with the mall space's food-beverage area can create a signature piece to the mall, increasing the mall's total catchment area and greatly enhancing the centre's night time trade.
Higher foot traffic

Families often use the promise of visiting the play area as motivation to visit the centre more frequently and allowing them to spend a longer time running errands with children.
As the entertainment areas are safe and secure, it gives families peace of mind to allow their children to play. It's also an inexpensive option to entertain the children, no matter the weather. This means parents will choose to visit the centre more often, over other entertainment options.
There have been many changes in the retail space over the past decade, with the most significant shift being the rapid growth of online shopping. To compete in this ever-expanding digital world, shopping centres have to address the need to ensure customer experiences are engaging and valuable for the whole family. Providing play areas can transform a centre from just a place to go shopping to a must-visit destination. Happy families mean happy shoppers, which benefits retailers through increased dwell time, increased sales and growth, and overall shopping centre perception.

To see more great resources, and what goes into a centre, check out our information resources.


Statistics drawn from Starburst Insights in Australia, ALARA Reports, RideonUSA, conducted between 2017-2019 across centres in Australia on the impact play facilities have on families and the retail and shopping centre environment.